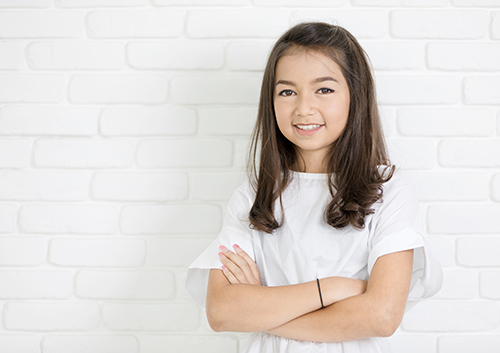 As adults, we often wish our teeth could be as white as they were when we were small children. Baby teeth have thinner and whiter enamel than adult teeth, and those brilliant smiles are a result! But occasionally, you may be surprised to discover some staining or discoloration on those lovely first teeth. You might be tempted to apply a whitening product to your child's teeth, but, please—read on!
Causes of Staining
Improper Brushing—Often, a loss of tooth whiteness means that plaque has built up on the tooth surface. Careful brushing is needed to remove bacteria and plaque, and if your child isn't brushing at least twice a day for two minutes, discoloration can be the result.
Medications—When given in liquid form, or when added to formula or food, iron supplements can cause dark grey staining on the teeth. Medications taken by a mother while pregnant or breast feeding, such as tetracycline, can also lead to discoloration.
Injury—If a tooth suffers a serious injury, the tooth can darken because of changes inside the enamel.
Health conditions—Certain health problems can cause tooth discoloration, or sometimes children are born with weaker enamel that is more likely to stain.
If you have noticed any staining on your child's primary teeth, call our Lake Mary office. Simple stains can often be removed with better brushing techniques, and we can clean other surface stains in the office. Staining caused by an injury or a health condition is something we can discuss in detail with you. We can even use some professional whitening methods if those are indicated.
Why not just buy a home whitening kit for your child? There are several important reasons to leave these products on the shelf while your child is young.
Whitening kits are designed for adults. They have been tested for adult teeth in adult trials. Check the box for age appropriate use. Most products are not recommended for pre-teen children.
Remember that thinner enamel we mentioned earlier? Add to that the delicate skin of young children, and it's sensible to be cautious about using a bleaching agent that can cause mouth and tooth sensitivity even in adults.
There is no body of evidence available as to the short and long term effects of using these products on children.
If you are concerned about the brightness of your child's smile, please talk to Dr. White. We can recommend better ways to brush at home, clean your child's teeth in the office, or suggest professional methods of whitening if there are physical or psychological reasons that it would be valuable. But while your child is young, those off-the-shelf whitening products can wait a few more years.